According to BT Sport reporter, Andy May, broadcasters are already being offered coverage of Philippe Coutinho's unveiling at Barcelona, which will reportedly take place this Friday.
Neither Barca nor Liverpool have publicly confirmed that the transfer is going ahead, but reports on Tuesday indicated that Barca are confident of wrapping up the deal soon, possibly before the end of the week.
This claim is backed up by an email posted on Twitter by Andy May. The email announced that Coutinho will be unveiled at Camp Nou on Friday and offered for sale HD footage of the presentation.
May blurred out the sender's email address, but appeared confident it was a legitimate offer.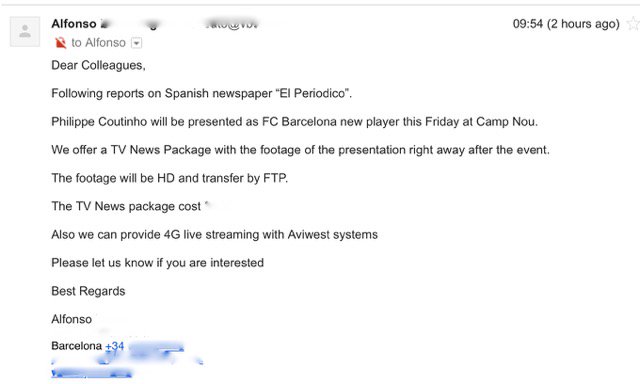 Andy May had earlier tweeted, "Already getting emails from Barcelona offering television coverage of @Phil_Coutinho Barca presentation this Friday #keen"
If Coutinho is unveiled on Friday, it will be the second time this summer he has been paraded around the pitch holding the shirt of another club.